Volkswagen Brake Pad Replacement in Concord, NC
At Hendrick Volkswagen of Concord, we have a team of certified technicians that are Volkswagen brake system experts with significant direct experience performance brake pad replacement across all Volkswagen models. When a safety system needs maintenance such as the braking system needing new brake pads, it is an excellent judgment to match your VW model's service with a VW service department providing quality care matching your vehicle's VW emblem. Our customers never have to risk driving comfort, safety, or service value when we provide every service according to Volkswagen's quality standards.
How Brake Pads Work & Why They Require Replacement
Brake pads are an integral component of the Volkswagen braking system because they are at the heart of creating the friction and resistance necessary to slow down and stop a vehicle that weighs thousands of pounds. Brake pads are clamped against the brake rotors powerfully to generate the resistance needed to stop. This extreme friction and heat would otherwise damage the rotors if the brake pads didn't wear down with each stop incrementally. The brake pads' design demands that they are replaced before they wear out and cause secondary brake system problems.
What are the Symptoms of Worn-Out Brake Pads?
We recommend frequent braking system inspections according to Volkswagen's routine maintenance schedule for each model. It is always best to replace front or rear brake pads before they wear out to ensure a pleasant driving experience and safety. We also encourage our customers to get brake pad replacement in response to worn brake pads causing the warning signs of a braking problem.
By following the recommended schedule for brake pad inspections while responding to the warning signs with prompt brake pad replacement, our customers can do everything in their authority to promote a reliable braking system at factory specifications. Here are the most common symptoms related to worn-out brake pads:
Brake System Warning Light
Noises When Braking
Brake Pedal Feels Excessively Soft or Must Be Pushed Closer to The Floorboard
Pungent Burnt Odor
Pulling to One Side When Braking
Vibrations or Shaking in The Brake Pedal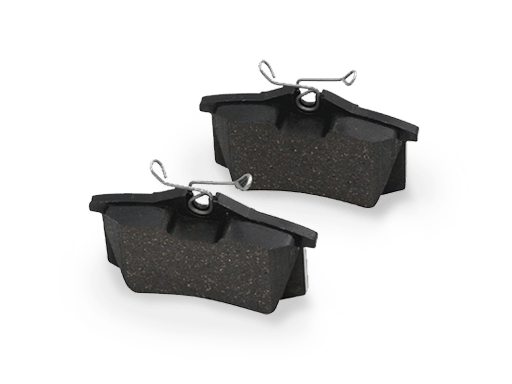 Genuine Brake Pad Replacement Service in Concord, NC
At Hendrick Volkswagen of Concord, brake pad replacement features a certified technician, a state-of-the-art service department, and a brand new set of original factory-authorized brake pads from our parts department. Our expert technician removes the worn brake pads, executes a thorough inspection of the entire braking system, and if all is well, installs the new brake pads according to specifications. Service ends when our customers receive the complimentary multi-point inspection results checklist that maximizes value by providing an accurate assessment of the vehicle's overall condition.
Schedule Service
Complimentary Amenities
Complimentary Multi-Point Inspection
Free Wi-Fi
Vending Machines
Service Xpress
State-of-the-Art Facility
Genuine OEM Parts
Complimentary Beverage & Coffee Bar
Flat Screen TVs
Newspapers & Magazines
Comfortable Waiting Area